Blog is a great medium to share your personal opinion with large number of people over internet. On top of it you can earn money by blog. How To Start A Blog And Make Money ? Now this question must be coming into your mind. Don't  worry.  I am here to guide you and answer this question. You don't have to be some technical expert to create a blog. It is very simple and you will learn it in a breeze after reading this article.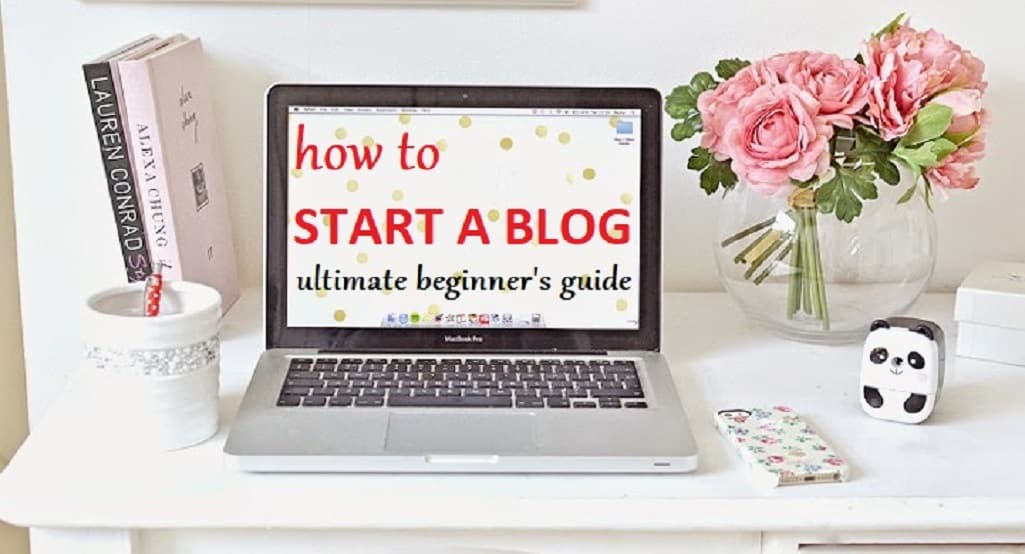 When I started blogging in 2013, I hardly had any knowledge as how to start a blog. Searched internet and used it's resources to create my blog. I have compiled all my experience & knowledge in creating an easy step-by-step guide to start your blog. All you need is a focused attention while reading the guide. Just grab a cup of coffee or tea. 
Let us now start with the process. 
Why do you want to blog?
Before you start to make your blog. You need to have a clear picture in your mind. What is your purpose of creating the blog. In case you know the reasons you can skip this section and move to the next one. Here is a list of important ones
Make Money: You can make money by blogging. Sit at home and earn money. Or carry your existing profession, blogging will generate additional income. Blogging is low cost high return work. But it requires hard word.
Share Your Thoughts:  By writing you can express your  opinion, story and information to wide range of people. Blogging is a great medium for this.
Promotion: Means to promote your business or product. A blog is a great means to gain more customer base. 
Be an Expert Writer : Blogging sharpens your writing skills. Thus making it easy to sell your books online as people already know you. 
Now must have got one of the reasons why I want to join the blogging world.
6 Steps For How To Start A Bog
Choose Topic For Blogging

Select a Blogging Platform


Select Web Host & A 

Domain Name.

Installing WordPress

Customizing & Designing Blog. 

Writing & Publishing First Article
STEP 1. Choose Topic For Blogging
Blogging is way of expressing you opinions and information. To start a blog you need to have a topic in mind. The topic for blogging should be one of the following.
A topic should be one that interests you. Something that you would love to discuss again & again. It could be fashion?travel? health?Then only you can shine in the world of blogging.

If you are making a blog to promote a product, service or business. Then your blog topic should talk about your business. Blogging is a cheap way to connect your product with masses

Your profession can be the topic. Writing about your professional experiences can guide & motivate other people in this profession.

Life experiences in general can also be your blog topic. Anything from sad to happy moments in life. How you overcame a disease?, how it feels after giving birth? etc.

You can pick clear niche in one area. A niche is a one focused area under a large area. Suppose you want to make a blog related to kitchen. You can pick one particular area in this kitchen topic that is called niche. Say you picked coffeemaker? or mugs? or glasses?. This way you will stamp your authority. 
One thing is sure whatever topic you have chosen there must be many other's already writing on that topic. Your personal perspective on this topic will make your blog unique from others. And this uniqueness will attract lot of blog visitors. It will act as a dictionary on one area.
What To Do In Case You Are Still Confused Regarding The Topic For Blogging?
Today you can start blogging with any topic that appeals you in some way. Later on you can change the topic. We all do it after we loose interest in that topic. In this case I recommend that you select a domain name that is neutral to topic. See the name of the my blog – feedtip.com.  It can be used for technology, news, fashion, home or anything 
STEP 2. Select A Blogging Platform
Topic is finalized. You know what you will write about. Now you need to select a blogging platform for start your blog.
Searching on internet will throw open lot of blogging platform options. Some of them are WordPress, Blogger, Ghost, Wix, Weebly, Drupal, Tumblr, Squarespace. Among all these, WordPress is our choice. It is a great platform for blogging and is widely used blogging platform throughout the world.
WordPress is used by 75 million websites around the world. It has 59.9% CMS market share. 52% of top 100 blogging websites use WordPress. This clearly shows who is the boss.
What makes WordPress so popular? 
WordPress is basically a software than runs your website/blog. It offers amazing features
WordPress is FREE open source software. Easy to customize, modify and install. You don't have to be code specialist to use this platform. 

There is a huge collection of freely available themes & plugins.  

You can add plenty of functions to your blog by using plugins. Customize the look of your blog by installing themes. Change layouts and much more. 

The blog/website made on this platform can be managed easily. You can update, create backups etc with single clicks. 

A WordPress blog is highly secure and safe in today's internet world.
By now you must have decided that you should use WordPress platform for creating your blog. 
There are 2 ways to start a blog in WordPress –  WordPress.org & WordPress.com
WordPress.org – You use it's free resources to create a awesome self hosted blog. Having .org at the end of 'WordPress.org' does not mean that can't have .com or other extension at the end of your domain name. You can have any extensions you like after your domain name. My blog which you are seeing right now is made on this WordPress.org.
WordPress.com – It is a free hosting platform where you can run your blog. Running a blog over free platform has it's limitations. Read below the reasons for not hosting the blog on such platforms
Why I am Advising You To Never Create A Blog On Free Hosting Platforms ?
Having a blog at freely platform like  WordPress.com, Blogger, Wix etc has many disadvantages. Some of the important reasons are as follows
Whatever work you publish at these free platforms belong to these hosting services. Your account can be suspended on any violation of rules. 

Monetizing a blog at these free platforms is very hard. As you are not allowed to use ads and affiliate programs. 

Limited customizing options in terms of plugins and themes available at free blogging platforms. Hence your blog will not look impressive for blog viewers and  companies want to advertise on your blog. 

Storage space & bandwidth is another limitation at free blogging platforms. 

Customized plugins cannot be added in free platforms. When your blogs grows you cannot add new functionality. 
Make a blog on a free platform only if you are not serious for blogging.
A self hosted WordPress.org blog comes with no limitations like storage space, speed, themes, plugins etc. It has unlimited advantages. You never loose your work on self hosted WordPress blog as you have complete control . When your blog grows you add new features and functions by installing free plugins. There are over 50000 free plugins available at WordPress.org directory. Plus a huge collection of 6200+ Free themes. With these themes you create an awesome professional looking blog. Using of ads and affiliate programs on your self hosted blog is super easy. Thus making money from blogging is unlimited
I recommend WordPress.org blogging platform for making your blog
My step-step guide will give you lessons as how to start a WordPress blog on paid web hosting.
STEP 3. Select A Web Hosting Service & A Domain Name
To start a self hosted WordPress you need both web hosting service & domain name. A web hosting is a service which stores all your blog content (files,images, videos etc) and makes your blog visible to everyone on internet. Domain name is your blog address which a visitor types in his browser to open your blog. No web hosting & domain name means no blog. 

A typical web hosting service charges are $8 per month onward. Cost of buying a domain name is $10-$15 per year. Domain name is bought from the web hosting service. There are lot of hosting companies in the market. One name that standout from all hosting choices and I highly recommend Bluehost. It provides reliable cheap hosting for WordPress. Hosting costs just $3.95 per month. On top of it you get a FREE domain name for first year. Number 1 recommended hosting company by WordPress.org. These following reasons will make you agree as why you should host a WordPress blog on Bluehost. 
It is the choice of over 2 million websites around the world. It is the top hosting company of 2018

Bluehost has a easy and simple to use interface. Cpanel is user friendly. Easy to install a wordpress blog with just one click

It is no 1 in website uptime that is 99.99%. Your website is online round the clock

Get a FREE domain name when you sign up with Bluehost    

WordPress at Bluehost is FREE

24X7 Technical support of Bluehost is excellent. Ready to help you for all your queries. 

You get a free SSL Certificate. This make your website secure from threats and attacks.

The best part is a self hosted professional blog by using Bluehost.  Monetizing becomes easy. 

Bluehost offers 30 day money back guarantee. Incase you are not happy with service or change your mind.

Get a cheap top class web hosting for $3.95 per month. This is nothing when you earn thousands of dollar from your self hosted blog
By now you must have made your mind to start your blog on Bluehost. Follow below my steps for learning how to start a WordPress blog on Bluehost. After signing up for Bluehost, if you still have any doubts regarding choosing a plan, how to set up, selecting a pricing plan etc. Feel free to email me for any queries. I am here to help you out.
>>> Click Here To Go To > BlueHost & Start Your Blog <<
On Clicking Bluehost , It will  open a new window. Click the green "Get Started Now" button.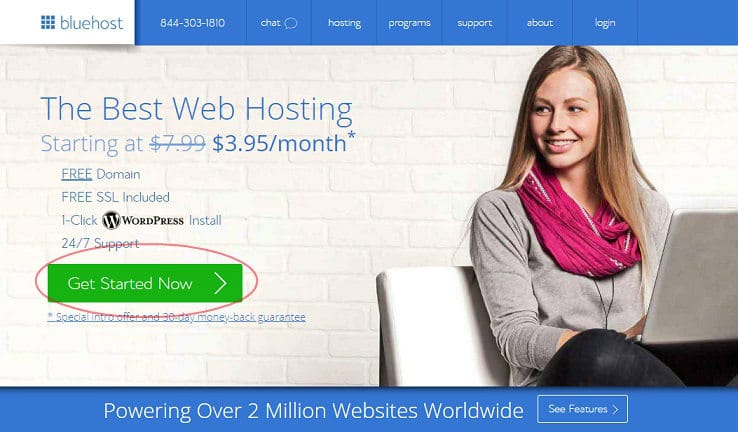 Hosting Plan Selection
Clicking "Get Started Now " will take you to the plan selection page. There are 3 plan options – Basic, Plus and Prime. All three plans have a FREE domain. I recommend you should use the basic plan to start WordPress blog. It hosts  single website. This plan is the cheapest plan. You pay $3.95 per month if you buy the hosting for 36 months. When in future you want to launch more WordPress websites you can upgrade to plus  plan/prime plan. This gives you the option of unlimited website hosting.  Bluehost is simply amazing because of this unlimited factor.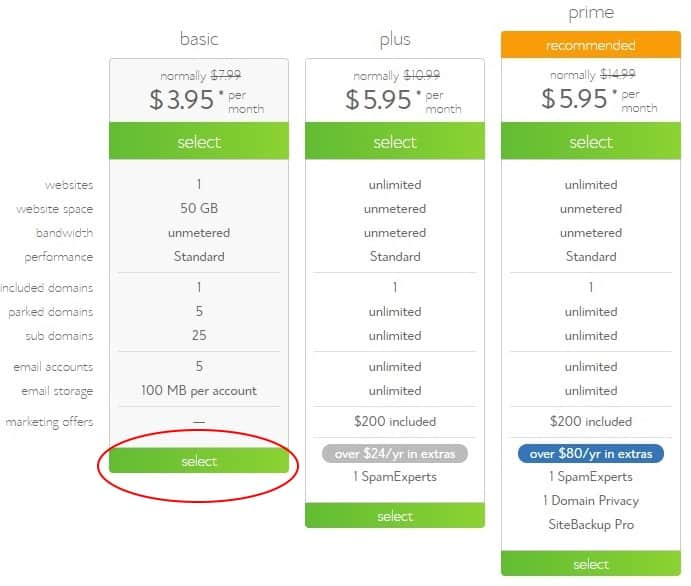 Domain Selection
On clicking  green button "select" under the plan, it will take you to the Domain Registration Page. This is where you get your FREE domain.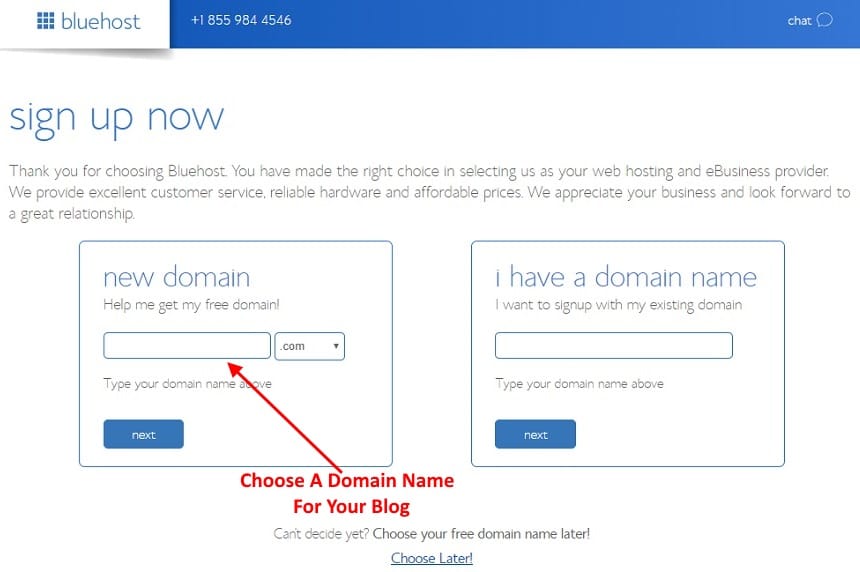 Domain is the name which people will type in the browser and visit your blog. Now you will we wondering what name shall I select.  What name extension should one select. Shall I select .com , .net, .org  or anything else. I recommend you should select .com extension as first choice. As this is the most popular used extension.
In case if you already have a domain type type it on the right. Or else type the name on the left and press next. If the name is available you will move to next account set up page. If your desired name is not available Bluehost will show you a list of available names similar to your typed name.  This process  is little frustrating as simple names you think might already have been taken.
The easy way to find the name is by thinking of the topic for which you are making the blog. Example if you want to make a blog on Fashion. You can use Latestfashion.com, Hifashion.com, TopFashion.com, Fashionquest.com.
Try modifying the name till what is available for registration
What  words are related to fashion – Style, Trend, Vogue, Fashion

Words that can be added with main topic – Craze, Love, Idea, Top

Other words you can try adding  to main topic – My , Expert, Unique, Fun,

Try adding or removing a letter to the word. For word Trend you can add "z" , " Y", "s" . You get a new word Trendz, Trendy, Trends or  anything creative you like.
When your selected name is available, clicking next will take you to Account Setup & Package Information Page
What To Do In Case You Are Still Undecided On Domain Name Selection?
Bluehost gives you the option to choose the domain name later.  Click "Choose Free Domain Later" button in pop screen or  click link text "Choose Later !" at the bottom of domain registration page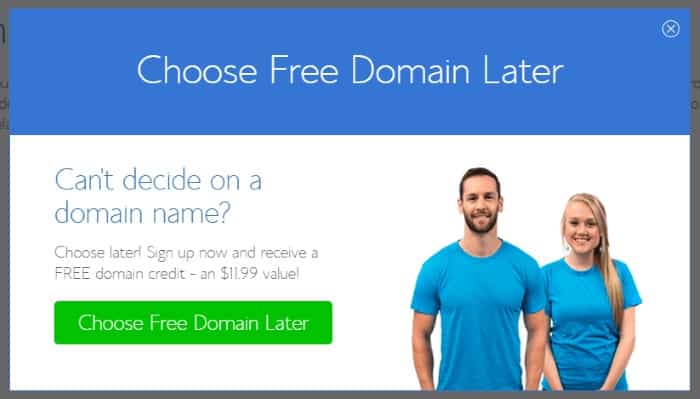 Account Set Up  
At this page you fill personal details and billing information for account set up.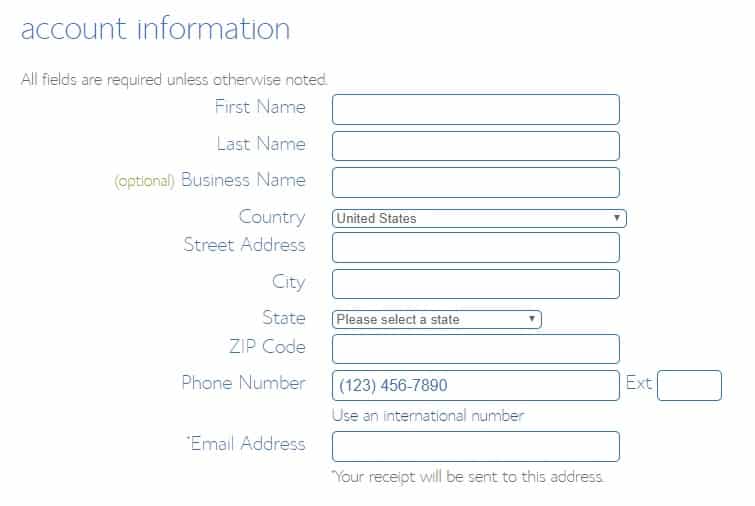 Select Account Plan
Scrolling down to package information. Select the account plan. This is choosing hosting duration. You are billed as per the year- 1,2,3 & 5 years. You are paying upfront. The cheapest plan is for 36 months. We recommend that you select 36 month account plan. As this plan offers best value for the money. A saving of $142.44. Super deal.


Going down package extras are optional. It is your decision whether you want to purchase or not. We generally  do not recommend to purchase them now. As you can buy later if you think you need them.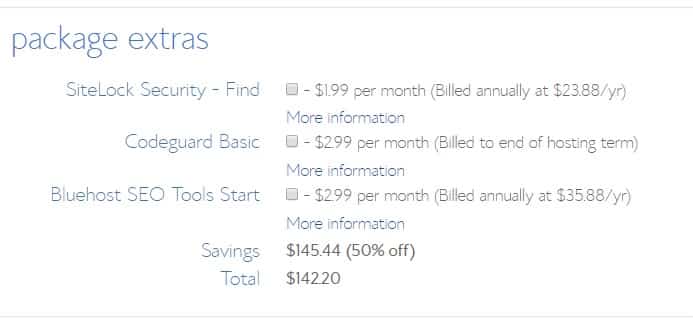 Enter Billing Information
Fill billing information, agree service terms and click submit to complete.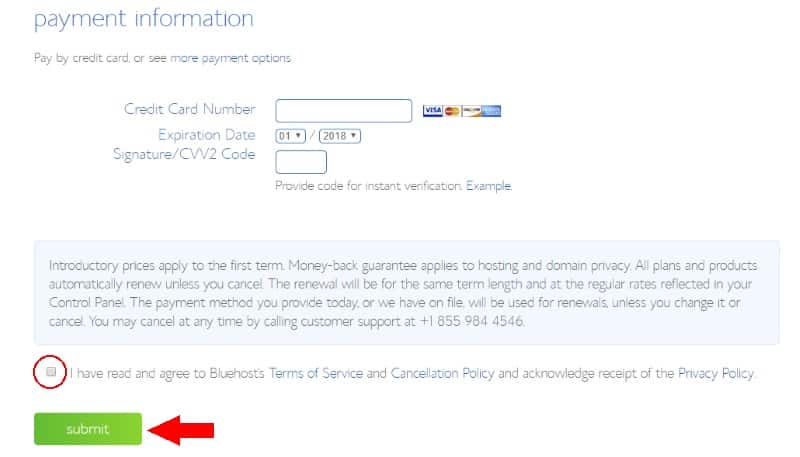 Special Offers & Upgrades
Clicking submit will open a new page showing special offers & upgrades for you. Skip them by clicking "no thanks" link.
Password Creation Page
This page show your purchase was successful. You will receive various welcome mails from Bluehost regarding your created account.
It will ask you to create secure password. Click "create password" green button. It will take you to new window.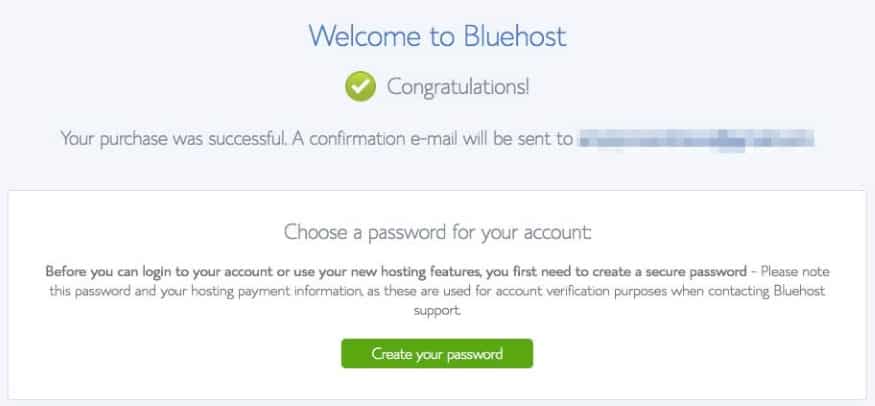 Create a new strong password in this window.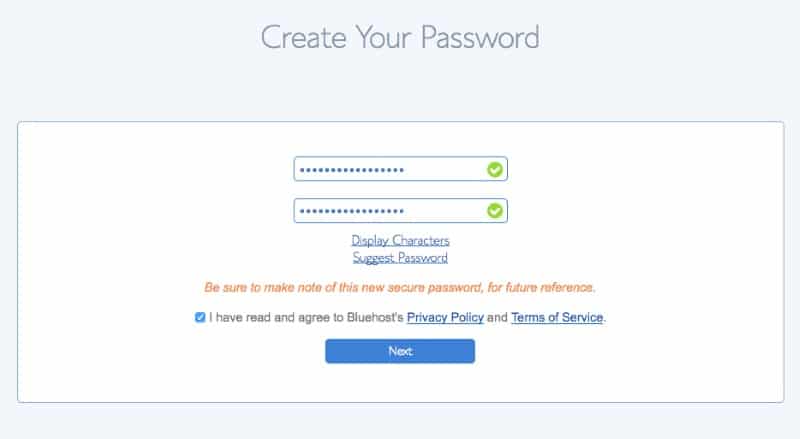 This new password will be used for account login . Click "Next" blue button. You will receive a congratulations page that you have created the new password. From here you will install WordPress
STEP 4. Installing WordPress On Bluehost
To install WordPress click "log in" blue button on this congratulation page


Skip Free Themes
Clicking "login in" blue button  will open  free themes selection window. Bluehost shows you a list of free themes you can use for your blog. No need to install themes right now. As themes can be easily installed later on. There are plenty of freely available themes from WordPress.org directory. There are 6200+ free themes available. So press "Skip this step" link  at the bottom of the page
Clicking "Skip this step" link in free themes page will open a new page. You have two options either to build your WordPress website by clicking "Start Building" blue button or "go to my Bluehost account".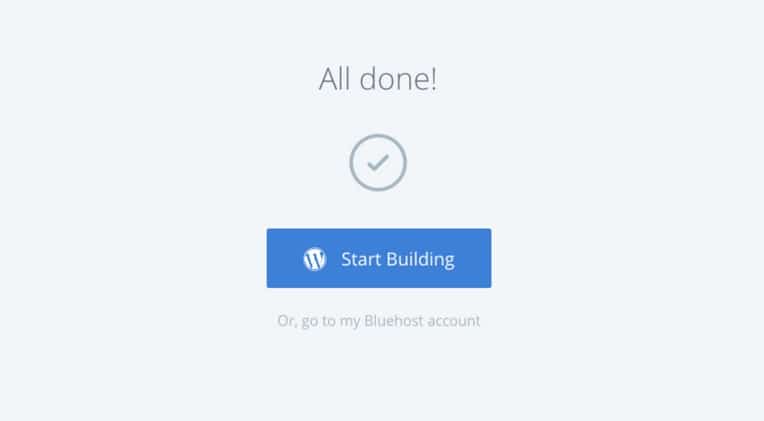 At present your blog will be on temporary domain. New domains take 1 hour to a maximum 1 day for getting registered. When done, Bluehost will shift your blog automatically to registered domain. No point going to Bluehost account now. Let's complete WordPress installation. Login to WordPress dashboard click "Start Building" blue button.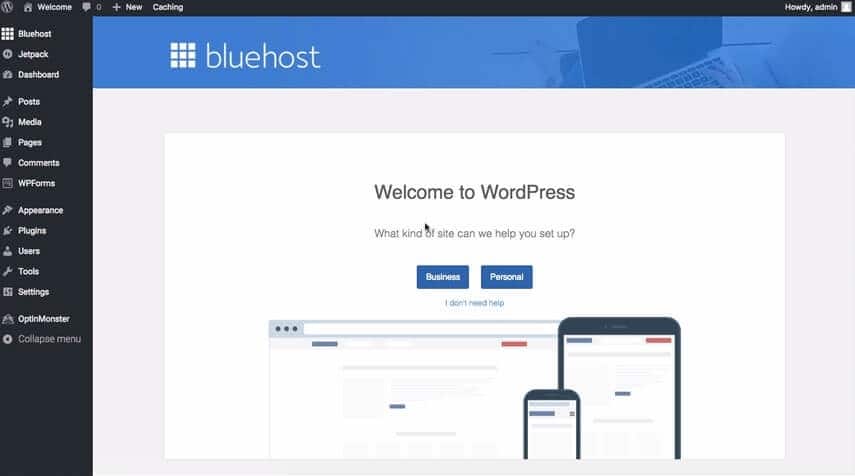 This is how a dashboard looks. Left hand side is the menu of WordPress dashboard. In the center you have Welcome to WordPress" message. Here Bluehost will ask you to help setting your blog. Click "I don't need help" as you can do more easily by using the menu on the left hand side.
Launch Your Blog 
At present your blog homepage that is www.yourblog.com will show coming soon . The first step to make your blog go online. Click  Bluehost>>Home on the left hand side. Click "Launch" blue button in the center where it is written Launch your site.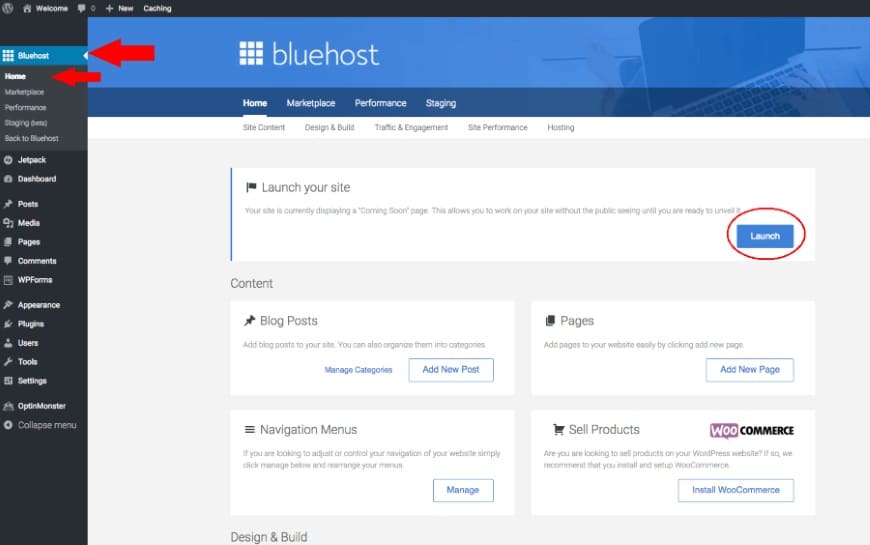 Clicking this button will open a new pop up. Over here you need to fill your blog name and blog description.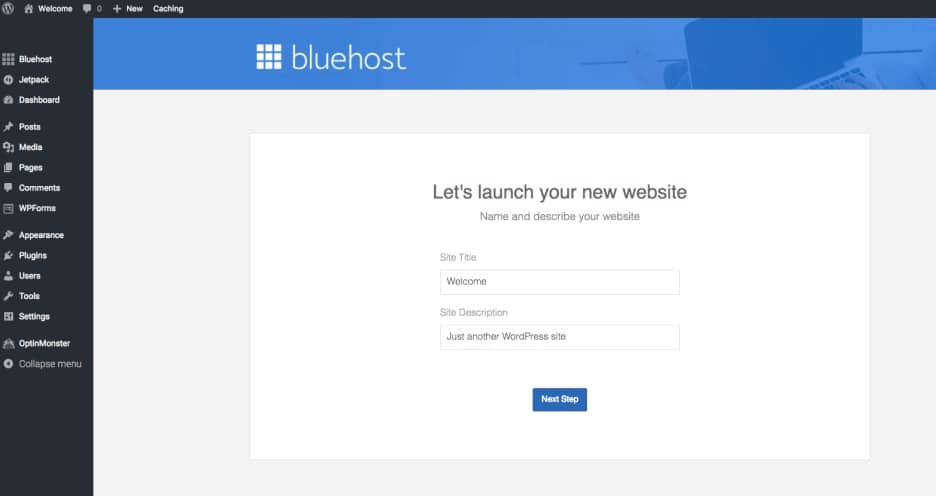 Now whoever visits your site URL, they will see your site name and description. It the the first step in making your blog going online. Installing WordPress is complete. Now let's beautify & add functionality to your blog.
STEP 5. Customizing & Designing Blog
Installing Themes in WordPress
Let us customize the look of your blog. Make it look cool and exciting. Your journey in the blogging world would be full of fun
There are lot of  WordPress themes available. Paid as well as free ones. Since you have just joined the blogging world, you should experiment with free themes first.
In the WordPress dashboard. Click Appearance on left hand side . Then click Themes.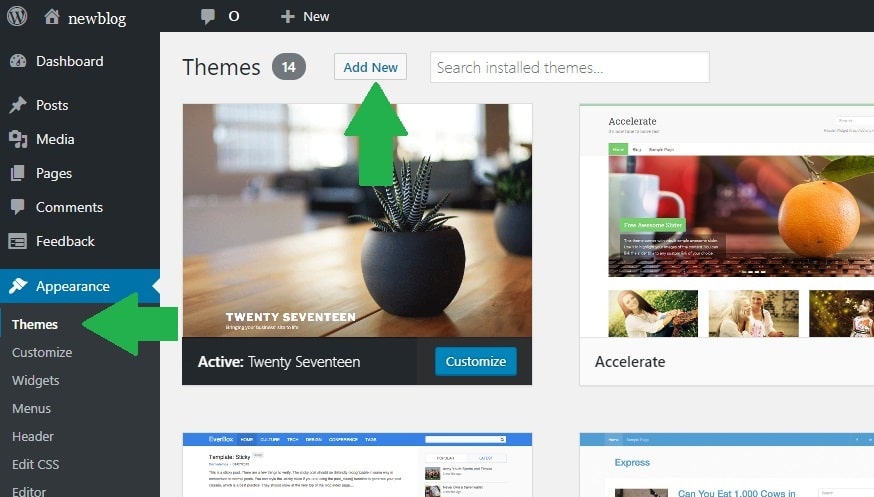 Click Add new button on top.
You will move to next screen. It will show you amazing list of freely available themes from wordpress.org themes directory. The themes can be sorted on the basis of featured, popular, latest, favorites and featured filter. Using Featured Filter guides you in blog theme selection as per your topic, features & layout. This will sort themes based on your requirement.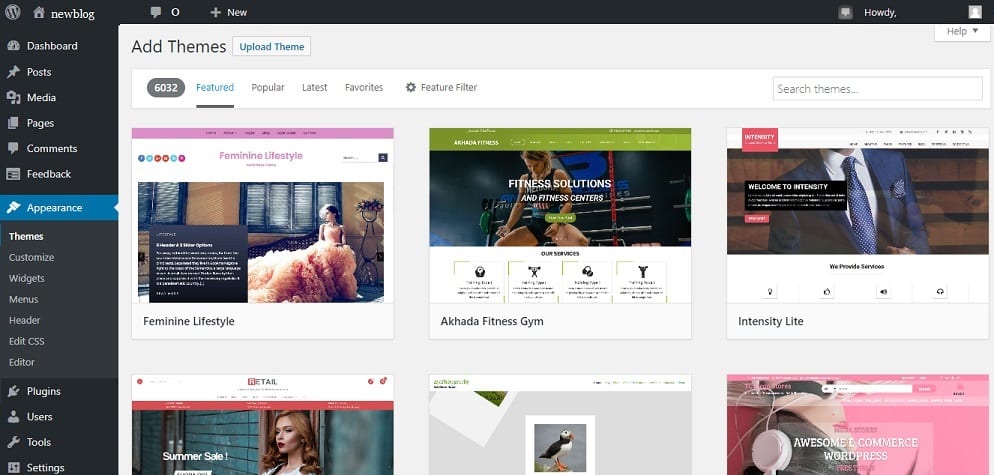 When you move the cursor  over any theme. It will show three clickable buttons – 1) Details & Preview, 2) Install, 3)Preview. On clicking  first button details & preview it shows themes details and live preview of the theme.  On clicking preview it shows how your blog looks in this theme. If you like theme click install. The theme gets installed and now install button changes into activate button. Only when you click activate, your current theme changes into this new theme. You can always customize this new theme by clicking customize under appearance on the left hand side menu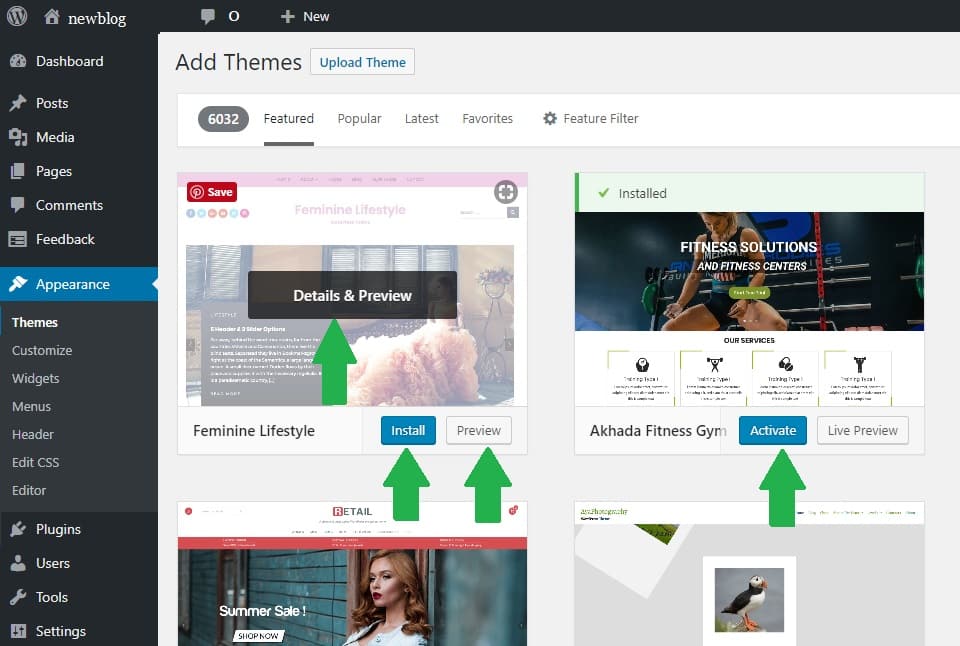 You will be confused to see so many themes. As there are 6200 freely available themes. Which theme I should select. My advice to you is to go for a clean & crisp looking theme. A clean theme ensures good visual presentation to your blog visitor.
Once you have selected & installed the theme, you are ready for the next step. 
Create Username & Log In Information
Click Users>>Add New on the left side vertical menu
Fill details in this page
In username write the name you want to to use to login into WordPress
Email is basically added in case you forget your password. New details are mailed to your email.
To fill password click "show password" next to Password. Add the password you desire. 
The last most important thing . Select administrator from the drop down box next to Role. 
Click Add New User.
Your WordPress login URL  is http://yourblog.com/wp-admin . It looks like this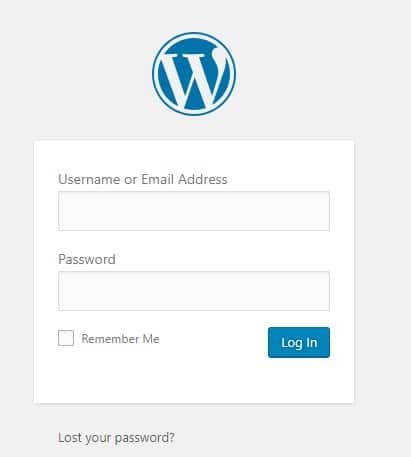 Fill username and password.  Ticking remember me is optional. If you tick mark this, you won't have to fill your username and password again for few days. It will allow direct access to WordPress admin panel.
This is how you enter WordPress website dashboard. A master panel is a place to customize your blogs and write your posts. Before writing your first post let's add more functionality to the blog by adding plugins.
Plugins Installation & Customization
WordPress plugins are like apps of smartphone. It adds additional function or extends existing functions to our blogs. There are 55000+ free plugins available at WordPress directory.  There is a plugin for any task you want to complete in your website. This makes self hosted WordPress blogs look so amazing. Tremendous customization.
These software bits by facilitating various tasks & adding new features makes our blog more visitor /admin friendly.  Thus making money from blogs becomes easy.
You must be wondering what type of plugins I should install and how should I install.
Let us first discuss how to install WordPress plugins.
Click Plugins>>Add New on the left hand side bar.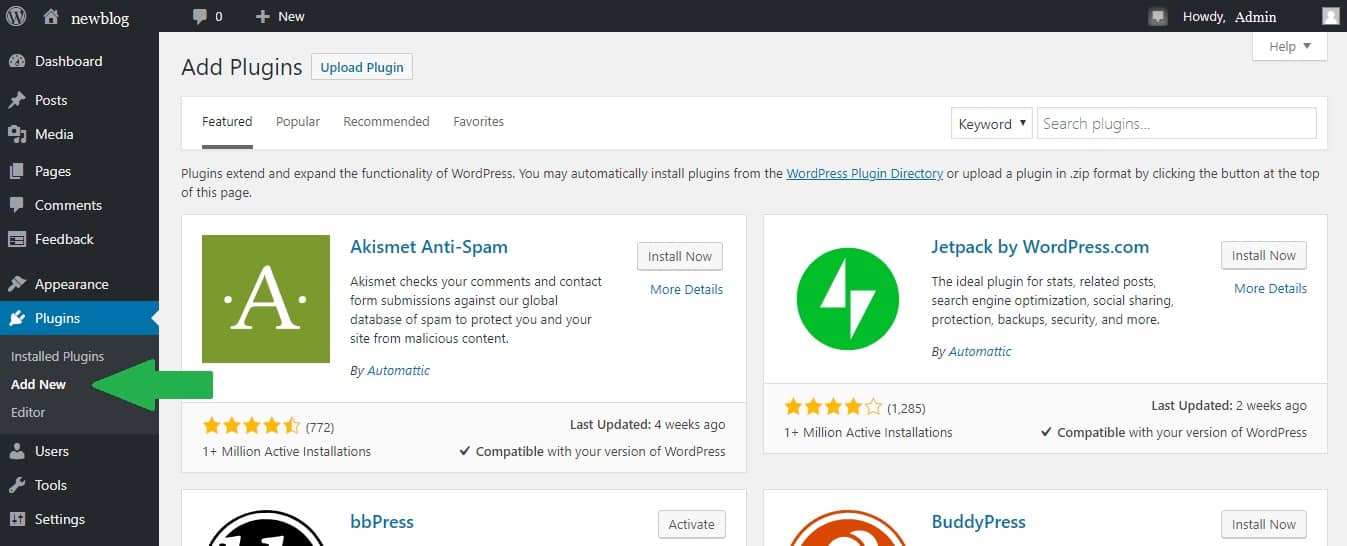 WordPress.org shows various plugins in your dashboard window. Plugins are sorted on the basis of clickable horizontal menu at top- Featured, Popular, Recommended & Favorites. Featured shows a plugins as highlighted by WordPress.org. Popular shows you a list of highly installed plugins. Clicking Recommended shows you plugins based on your already installed plugins. Favorites shows a list of your marked favorite plugins.
You can search the plugins by typing it's name, author or tag in the search bar.  Then press enter. The plugins are displayed. Each displayed plugin has clickable link – Install now & More Details. Clicking More Details shows plugin description. On clicking Install Now the plugin gets installed in your blog. Install Now button changes to Activate. Only on clicking Activate the plugin starts functioning on your blog.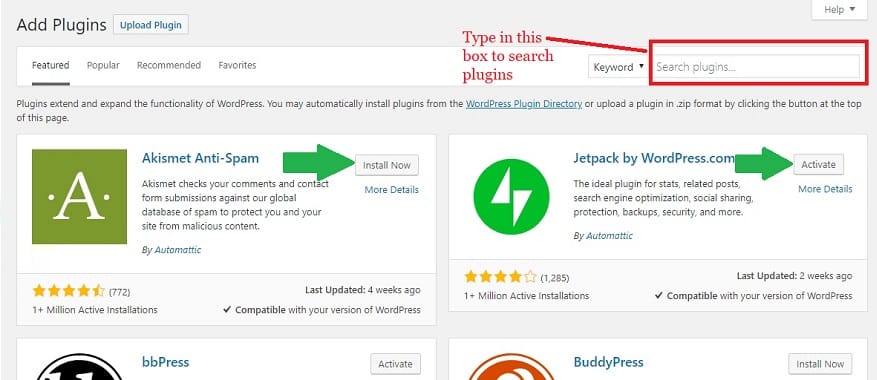 You have learn't how to install plugins. Now you will be wondering what plugins I should install since you are a beginner.
Here is my list of recommended plugins in the following steps 
Optimizing Your Blog For Search Engine Traffic – By Using Yoast SEO Plugin 
Optimizing your blog for search engine is a very important exercise. Your articles are searched by keywords and phrases. If you follow SEO principles in your blog it will lead to good amount of traffic. High traffic to to your blog is a billion dollar. Installing Yoast SEO plugin will optimize your blog. It makes SEO look so simple. Just install & activate the way I have told you.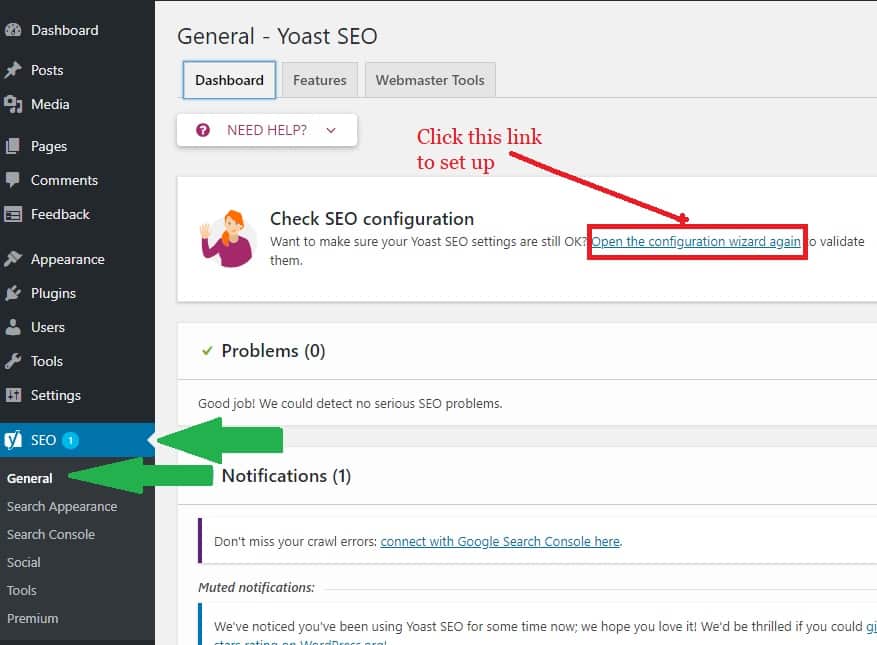 Click SEO>>General on left hand side menu of your wordpress dashboard. Click Open Configuration Wizard Again. Now set up by visiting this Yoast SEO Configuration Wizard link.  After you have completed setup, you need to visit Yoast SEO User Guide to learn how to use it.
Prevent Spamming In Comments – By Using Akismet Anti-Spam Plugin
Spamming in comments is a big headache. It is a global phenomenon.  To prevent spamming install and activate Akismet Anti-Spam Plugin. For set up click Akismet Guide
Other Important Plugins To Install
WP Super Cache  – Enhances the speed of WordPress website
UpdraftPlus – Creates a back up of your website in case something goes wrong.
Convertkit – Great email marketing tool for sending Emails & Newsletters to your blog readers
STEP 6. Creating & Publishing  First Blog Post
This step will add lot of excitement. You will create your first blog post. To create post you click Posts>>Add New at left side bar.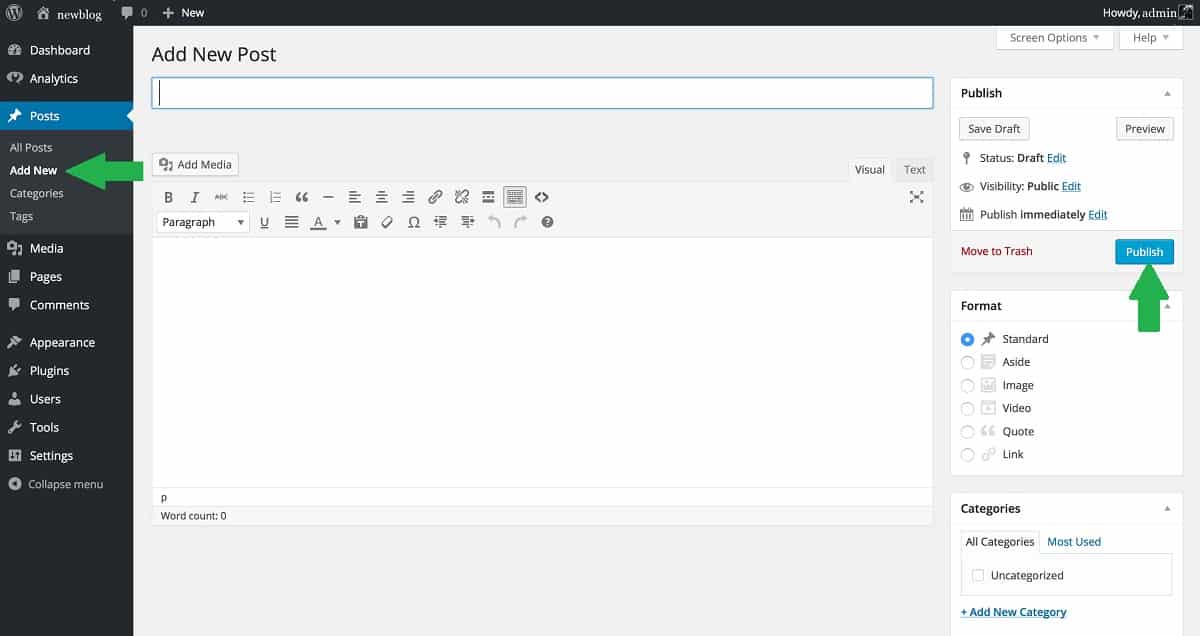 It opens text editor for you to write your post. Like any editor it has text editing and formatting tools. Text color change, insert links, alignment, underline, bold etc. You can add photos & videos by clicking add media button. You upload image/video and insert in the post.  The top bar under add new post is to write the title of the post.
On the right side you can categorize your post by adding categories. Add tags that enables great searching in your blog. Add featured image to show on homepage and category listing.
After you have finished writing.  You click Publish button on the right hand side to publish your new post. This posts goes for indexing in search engine.
How To Write Post In WordPress – Learn in detail all the features by watching this video
Created first post is now seen in your blog homepage. It is a joyful experience seeing it.
Now you have learn't how to start a blog in WordPress. Welcome to the world of blogging.